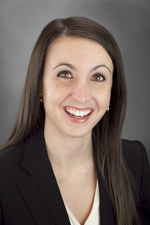 Elizabeth A. Odian
Partner
eodian@hinshawlaw.com
414-225-4806
Beth Odian defends employers in the manufacturing, banking, retail, healthcare and service industries, as well as municipalities and non-profits …
Showing 32 posts by Elizabeth A. Odian.
A recent decision issued by the Massachusetts Supreme Judicial Court offers up a good reminder that what employers may consider FMLA abuse may not in fact be FMLA abuse under the law. That's exactly the scenario that played out in Richard A. DaPrato vs. Massachusetts Water Resources Authority. More ›
The EEOC is immediately reinstating the revised EEO-1 pay data survey previously put on hold by the Office of Management and Budget (OMB), even as the U.S. Department of Labor seeks to challenge the court ruling that mandated the data collection. The deadline for filing Component 2 data for calendar years 2017 and 2018 will be September 30, 2019. The EEOC will begin collecting Component 2 data sometime in mid-July, but the precise date is still unknown. The EEOC will notify filers of the opening date "as soon as it is available." More ›
After considerable anticipation, the U.S. Supreme Court today agreed to hear three cases involving questions of whether Title VII's prohibition against sex discrimination encompasses discrimination on the basis of sexual orientation and gender identity.
The first two cases, Altitude Express v. Zarda and Bostock v. Clayton County, Georgia, were brought by employees who alleged their employers terminated their employment after learning they were gay. The Court's decision will resolve a widening circuit split over whether Title VII prohibits discrimination on the basis of sexual orientation. In Altitude Express, the Second Circuit joined the Seventh Circuit in holding it does cover sexual orientation, overturning longstanding precedent in the process. The court reasoned "the most natural reading of the statute's prohibition on discrimination 'because of . . . sex' is that it extends to sexual orientation discrimination because sex is necessarily a factor in sexual orientation." In Bostock, the Eleventh Circuit held it does not, explaining it remained bound by a 1979 case holding "[d]ischarge for homosexuality is not prohibited by Title VII." More ›
The recent federal government shutdown left the Equal Employment Opportunity Commission (EEOC) mostly shuttered. As a result, the commission has announced an extension of the 2018 EEO-1 reporting period deadline to May 31, 2019. The online reporting period will begin in early March, although the exact opening date has yet to be announced. Employers can visit the EEOC website for updates. More ›
In a split decision, the Seventh Circuit Court of Appeals held en banc that the Age Discrimination in Employment Act's (ADEA) protections against disparate impact age discrimination do not extend to applicants. Rather, they apply only to employees. More ›
Employers cannot force employees to take medical leave before they become eligible for FMLA leave. Nor can they lull an employee into believing they will be granted leave despite being ineligible, then terminate when they take leave. This seems like common sense, right? Hopefully so, but a recent Wisconsin district court case reminds us common sense does not always prevail in the workplace. More ›
In a huge win for Wisconsin employers, the Wisconsin Supreme Court rejected the longstanding version of the inference method followed by the Labor Industry Review Commission (LIRC) to determine intent in disability discrimination cases involving conduct that manifests from the employee's disability. It replaced LIRC's method with a two-part inquiry that requires employees to prove (1) the employer took an adverse employment action against him or her because of conduct caused by his or her disability, and (2) the employer knew the employee's conduct was caused by his disability. More ›
If your company hires in Illinois, Indiana, or Wisconsin, and uses years of experience ranges in job postings, it is time to break out the red pen and strike the upper end of those ranges. In a 2-1 opinion, the 7th Circuit recently held the disparate impact provision of the Age Discrimination in Employment Act (ADEA) protects outside job applicants as well as internal job applicants. Now, hiring practices that disparately impact outside applicants over age 40 are unlawful. Applying that ruling in the case before it, the court revived a disparate impact lawsuit claiming experience caps disparately impacted older workers in violation of the ADEA. More ›
In a milestone decision, the 6th Circuit Court of Appeals held discrimination based on an employee's transgender or transitioning status violates Title VII. In addition, the court held as a matter of law that a religious employer "cannot rely on customers' presumed biases to establish a substantial burden" under the Religious Freedom Restoration Act (RFRA). Thus, the employer's sincerely held religious beliefs did not free it from the proscriptions of Title VII. More ›
Believe it or not, individuals with criminal convictions can make a business out of trolling online job boards for job postings that express an intent to discriminate against applicants with conviction records—think job postings with "no felonies" as a qualification. Postings of this type run afoul of the Wisconsin Fair Employment Act, which prohibits employers (1) from circulating job ads and applications that express an intent to discriminate against applicants with conviction records and (2) from refusing to hire applicants because of their arrest or conviction record (among other types of discrimination directed at individuals with arrest and conviction records). Postings that violate this prohibition can cost your company a whole lot of headache and money. Penalties range from a cease and desist order to job instatement and backpay if the applicant can show he or she would have been hired but for her conviction. More ›
Search

Subscribe via Email


Subscribe to this blog's feed

Follow us on Twitter
Blog Editors