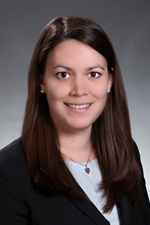 Jamie L. Kessler
Associate
jkessler@hinshawlaw.com
617-213-7000
Jamie Kessler focuses her practice in all areas of professional liability defense, insurance coverage and employment. She regularly counsels …
Showing 5 posts by Jamie L. Kessler.
In Lawless v. Steward Health Care System, LLC, the First Circuit Court of Appeals recently considered a novel question: whether an employee suing for violation of, M.G.L. c. 149, §§ 148, 150 (the "Wage Act"), could recover under the statute despite filing her lawsuit before receiving permission from the Attorney General or waiting 90 days after notifying the Attorney General of her claims. It answered the question yes, rejecting the employer's position that the Wage Act provided for a grace period of up to 90 days. More ›
Recently, the Massachusetts Attorney General, Maura Healey, issued guidance to assist employers in complying with the state's Equal Pay Act ("MEPA"), which goes into effect on July 1, 2018. The 30-page guidance is comprehensive, offering an overview of the law, responses to frequently asked questions, a self-evaluation for employers, and a sample checklist of policies and practices. Due to its length and breadth, the guidance should be reviewed by employers in full. However, we note the following important aspects: More ›
In another effort to take aim at disparate treatment of women in the workforce, Massachusetts Governor Charlie Baker signed into law the Massachusetts Pregnant Workers Fairness Act on July 27, 2017. The new law takes effect on April 1, 2018.
The Act requires Massachusetts employers to provide pregnant women and new mothers with "reasonable accommodations" for their pregnancies and any conditions related to their pregnancies. The new Massachusetts law expands existing protections and provides express instructions on the types of accommodations employers are required to provide. More ›
In a developing trend, Delaware followed Massachusetts, Oregon, New York City and Philadelphia, in enacting legislation directed at ensuring equal wages between genders. On June 14, 2017, Governor John Carney signed legislation, which prohibits prospective employers from asking job applicants about their salary history. The reasoning behind these laws is that wage disparities are perpetuated when current pay is based on past salary decisions that may have been based on gender. Rather, employers are encouraged by these new laws to assess potential pay based solely on merit, experience of the job applicant and the market rates. More ›
On August 1, 2016, Massachusetts Governor Charlie Baker signed An Act to Establish Pay Equity, which as the name aptly suggests, seeks to ensure equal pay for comparable work for all Massachusetts workers and equal opportunity to earn competitive salaries. The Act will take effect on January 1, 2018.
The new law prohibits any wage disparity between genders for "comparable work." The statute defines "comparable work" as "work that is substantially similar in that it requires substantially similar skill, effort and responsibility, and is performed under similar working conditions; provided, however, that a job title or job description alone shall not determine comparability." More ›
Search

Subscribe via Email


Subscribe to this blog's feed

Follow us on Twitter
Blog Editors