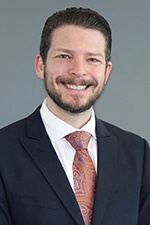 Michael A.S. Newman
Partner
mnewman@hinshawlaw.com
213-614-7346
Michael Newman is a litigator with a broad practice that includes employment litigation, insurance coverage disputes, bad faith liability actions …
Showing 30 posts by Michael A.S. Newman.
On Sunday, September 28, 2014, California Governor Jerry Brown signed into law AB 1897 (D-Hernandez), which imposes liability on companies who use subcontracted temporary labor if the temp company fails to pay wages or provide valid workers' compensation coverage. The bill applies where a temp company supplies workers to a client employer to perform labor within the client employer's usual course of business. More ›
In an August 19, 2014, Daily Journal article, Hold the cellphone! Who pays if it's work?, Michael Newman writes about a recent California appellate opinion providing employers insight into how they should reimburse employees for work calls make on private cell phone lines. Newman notes, however, that while on the surface Cochran v. Schwan's Home Service Inc. provides a definitive rule, in reality it provides little guidance as to how employers should comply with it. More ›
In Cochran v. Schwan's Home Service, Inc., the California Court of Appeal for the Second Appellate District dealt with the question of whether employers are required to reimburse employees for work-related calls made on their personal cell phones. More ›
In Lewis v. City of Benicia, the First Appellate District affirmed once again that in California, same-sex harassment is actionable.
Brian Lewis, a volunteer and later paid intern at the City of Benecia's water treatment plan, claimed he was sexually harassed by two male supervisors (Hickman and Lantrip) in violation of the California Fair Employment and Housing Act (FEHA), that he was subject to retaliation when he complained of the harassment, and that the City was liable for failing to prevent sexual harassment. More ›
The question of whether a worker is an employee or an independent contractor can have very important consequences, as the two categories receive very different treatment under the law.
To name only a few differences, there are no federal or state income tax withholding obligations for independent contractors; wage and hour laws do not apply to independent contractors; most anti-discrimination laws do not apply to independent contractors. And, of course, the employer mandate under the Affordable Care Act does not apply in the case of independent contractors. There is a lot riding on the question. More ›
In Horne v. International Union of Painters and Allied Trades District Counsel, 16, Plaintiff Raymond Horne, an African American male, applied for organizer positions within the union of which he was a member on two occasions. Defendant union hired white males in each case, and Horne sued the union, alleging that he had not been hired due to racial discrimination, in violation of Government Code section 12940, subd. (a) of the Fair Employment and Housing Act ("FEHA"). More ›
California employers are well aware that legislators and regulators, both on the state and federal level, have been burning the candle at both ends to generate laws, regulations, and administrative actions designed to hedge in and restrict their ability to chose and terminate their employees.
Correspondingly, it comes as no surprise to learn that the list of protective classes under California's Fair Employment and Housing Act ("FEHA") — which prohibits employment discrimination — is about to expand once again. More ›
In Mendez v. Mid-Wilshire Health Care Center, the California Court of Appeal for the Second Appellate District held that the arbitration provision in a collective bargaining agreement governing a plaintiff's employment did not apply to statutory discrimination claims.
Plaintiff, Mendez, was a nurse's assistant who filed a lawsuit against her employer, Mid-Wilshire, alleging several causes of action, including three statutory causes of action based on the California Fair Employment and Housing Act (FEHA). Mid-Wilshire filed a motion to compel arbitration and stay the action, arguing that all of Mendez's claims were subject to the grievance and arbitration procedure set forth in the collective bargaining agreement between Mid-Wilshire and the union to which she was a member. More ›
In this space, we have reported recently on the series of rebuffs that the EEOC has received from various courts in recent months. But in EEOC v. Boh Brothers Construction Company, the Fifth Circuit Court of Appeals handed the EEOC a victory that serves to expand the meaning of what constitutes sexual harassment under Title VII of the Civil Rights Act of 1964. In the September 27, 2013, en banc ruling, a 10-6 majority held that the crude sexual banter and ribbing of a heterosexual male worker by a heterosexual male supervisor could constitute sexual harassment under Title VII. More ›
In Abdullah v. U.S. Security Associates Inc., the Ninth Circuit held that the district court did not abuse its discretion by certifying a meal break subclass, defined as all past and present employees who (a) worked more than six hours, (b) were not provided a meal break, and (3) were not compensated for the meal break.
Plaintiffs were former employees of USSA, a private security guard company. As a condition of employment, all employees were required to sign an agreement to take their meals on duty, rather then having a meal break. Plaintiffs sought to maintain a class action on behalf of themselves and all others similarly situated, alleging that the employer's policy of requiring employees to work through their legally mandated meal periods made USSA liable for paying compensation for missed meal periods pursuant to California Labor Code 226.7 and the applicable wage order. The district court certified the subclass pursuant to FRCP rule 23(b)(3), which defendant challenged this ruling. More ›
Search

Subscribe via Email


Subscribe to this blog's feed

Follow us on Twitter
Blog Editors