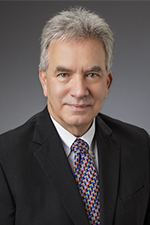 Tom H. Luetkemeyer
Partner
tluetkemeyer@hinshawlaw.com
312-704-3056
Tom Luetkemeyer concentrates his practice in the areas of labor and employment law and corporate health care law. Mr. Luetkemeyer represents …
Showing 23 posts by Tom H. Luetkemeyer.
The National Labor Relations Board (NLRB) has proposed a new rule which would exclude undergraduate and graduate students from coverage under Section 2(3) of the National Labor Relations Act (NLRA). Specifically, students who perform study-related services in return for financial compensation at private colleges and universities would not be able to collectively organize as employees. The proposed rule is subject to a sixty-day comment period. More ›
A unit clarification petition filed by the fledgling International Brotherhood of Professional Running Backs (IBPRB) was dismissed on September 17, 2019, by the Acting Regional Director of Region 13 of the National Labor Relations Board (NLRB). The IBPRB wanted to carve out running backs from the collective bargaining agreement between the National Football League Players Association (NFLPA)—the union that represents all NFL players—so that they could negotiate their own labor contract with the NFL. The IBPRB cited several reasons for their petition, including "unique career structures," along with a claim that the mini-max rookie wage contract is economically harmful to running backs, but "advantageous" to quarterbacks. More ›
From an employer's perspective, one of the most challenging decisions to come out of the Obama-era National Labor Relations Board (NLRB) was the concept of "micro-units" within an employer's organizational structure. Under the concept, employers could have multiple, small bargaining units, sometimes involving different unions, notwithstanding the fact that a broader group of employees shared a significant (though not ''overwhelming'') community of interest. That decision was later overruled by the NLRB in PCC Structurals, Inc. 365 NLRB No. 160 (2017), which restored the Board's prior standard for determining the appropriateness of a petitioned-for bargaining unit. Now, in The Boeing Company, 368 NLRB No. 67 (2019), the NLRB has further clarified the required analysis for this determination. More ›
While discussing work assignments with his supervisor, an employee uses abusive and profane language. In another incident, the employee disrupts a workplace meeting by playing loud music with racial and political overtones. These and other behaviors led to discipline which was in turn challenged by the employee as an unfair labor practice. In General Motors LLC and Charles Robinson (14-CA-197985; 14-CA-208242), the National Labor Relations Board (NLRB) requested public comment on when insubordinate, threatening or intimidating behavior should not constitute protected activity under Section 7 of the National Labor Relations Act (NLRA). It is not uncommon for the NLRB to request public comment in situations where there may be a policy shift.
The facts of General Motors LLC and Charles Robinson are relatively straightforward. Charles Robinson is a Union Committee representative, and he could be characterized as a zealous supporter of worker rights in a unionized environment. From a management perspective, he could just as easily be deemed a disruptive, uncooperative, intimidating, and threatening employee. Robinson was disciplined by the employer for essentially three reasons: More ›
The National Labor Relations Board (NLRB) has revisited the issue of when an employer may restrict access to its private property by non-employee union agents. In Kroger Limited Partnership, a union business agent was denied access to the food store's parking lot to solicit Kroger's customers to boycott the store. When the union agent refused to leave, the supermarket called police to force the union agent to leave the premises. The NLRB was subsequently was called upon to assess whether Kroger's actions were unlawful and discriminatory under the National Labor Relations Act (NLRA). More ›
A recent decision by a three judge panel of the federal D.C. Circuit Court of Appeals highlights potential pitfalls for successor employers who want to establish new compensation terms. In First Student, Inc., the D.C. Circuit panel concluded the employer in that case was a "perfectly clear" successor under existing precedent of the National Labor Relations Board (NLRB) because it intended to offer employment to the all of the employees of the unionized predecessor who met minimum criteria. The concept of a perfectly clear successor first was raised by the United States Supreme Court in NLRB v. Burns International Security Services, Inc.. In that decision, the Supreme Court noted that in certain circumstances it is "perfectly clear that the new employer plans to retain all of the employees in the unit," and the employer then is obligated to bargain with the union before making unilateral changes to wages, benefits, and other mandatory terms or conditions of employment. More ›
The National Labor Relations Board (NLRB) continues to retreat from its previously expansive approach to what might be considered interference with Section 7 rights under the National Labor Relations Act (the "Act"). Followers of Hinshaw's blog submissions will recall the NLRB gave a very broad interpretation during the Obama era to the scope of Section 8(a)(1) of the Act. An August 29, 2019 ruling from the NLRB in Velox Express, Inc. vs. Jeannie Edge further highlights how this is certainly not true of the Trump-era Board. More ›
A Federal District Court in New York recently fielded the issue of whether there is such a thing as a union relations privilege and the extent of that privilege. In Hernandez v. Office of the Commissioner of Baseball (18 Civ.No.35), baseball umpire Angel Hernandez alleged that Major League Baseball (MLB) had discriminated against him with respect to crew chief assignments and post-season umpiring assignments. There was no evidence Hernandez filed a grievance under his collective bargaining agreement regarding his discrimination claim and this was key to MLB's defense. Hernandez asserted union privilege in order to protect any discussions with representatives of the Major League Baseball Umpires Association (the "Union"). A New York District Court Judge, agreeing with the Magistrate Judge's recommendation, determined that under federal common law, any union relations privilege would only cover communications made in the context of representation by a union representative during disciplinary proceedings under a collective bargaining agreement. More ›
Employers seeking to juggle employee leave demands with their own regulatory compliance obligations received clarification from the U.S. Department of Labor (DOL). Specifically, the DOL published a clarifying opinion letter regarding the issue of whether an employer may delay the designation of leave that qualifies under the Family and Medical Leave Act (FMLA) and provide employees with leave beyond the 12-week statutory entitlement. The DOL ruled the employer cannot delay the designation. More ›
Regulators, judges and academics have all been vexed over the issue of whether obesity, not caused by an underlying physiological condition, is a disability covered by the Americans with Disabilities Act ("ADA"). Notwithstanding existing EEOC Enforcement Guidance that obesity is in and of itself protected under the ADA, the Seventh Circuit Court of Appeals recently weighed in on the issue and held obesity is not an ADA-protected disability unless it is caused by a physiological disorder or condition. More ›
Search

Subscribe via Email


Subscribe to this blog's feed

Follow us on Twitter
Blog Editors