Showing 9 posts in Discrimination and Harassment.
Employers are equipped and know how to handle complaints of racial discrimination and harassment—or at least should be so prepared. However, facts have a funny way of developing into novel situations. What happens, for instance, if an employee is being called a racist by other employees? More ›
In a milestone decision, the 6th Circuit Court of Appeals held discrimination based on an employee's transgender or transitioning status violates Title VII. In addition, the court held as a matter of law that a religious employer "cannot rely on customers' presumed biases to establish a substantial burden" under the Religious Freedom Restoration Act (RFRA). Thus, the employer's sincerely held religious beliefs did not free it from the proscriptions of Title VII. More ›
It's the end of the year and while everyone is busy, employers in California should be aware of new laws and regulations that go into effect on January 1, 2018. In the spirit of the season, we are using the next "12 days of the holidays" to blog about one California law a day and that law's impact on California employers. On the tenth day of Christmas, my Labor and Employment attorney gave to me – ten pipers piping and SB 306. More ›
The EEOC issued Proposed Enforcement Guidance on Unlawful Harassment on January 10, 2017. It is designed to consolidate numerous agency guidelines into one document and addresses hostile work environment harassment prohibited by statutes enforced by the EEOC. The Guidance examines three primary elements of a harassment claim. First, is the conduct based on a legally protected status; second, is the conduct sufficiently severe or pervasive to create a hostile work environment; and third, is there a basis for employer liability. The 75-page treatise covers key case law since the Supreme Court first recognized harassment as an actionable form of discrimination in 1986. More ›
In Ortiz v. Werner Enterprises, Inc., the Seventh Circuit stated in very clear terms that lower courts and parties to discrimination actions should not divide evidence into direct and circumstantial buckets under the familiar direct and indirect methods of proving discrimination under Title VII of the Civil Rights Act of 1964. The Court's instruction should apply with equal force to claims brought under the Age Discrimination and Employment Act and the Americans with Disabilities Act. More ›
The U.S. Supreme Court held in Green v. Brennan that the statute of limitations for a constructive discharge begins to run on the date of resignation, not the date of the employer's last discriminatory act, resolving a circuit split. As a result, in determining the deadline for filing a charge of discrimination with the EEOC, constructive discharge cases will be treated the same way as actual discharge cases. More ›
Bathroom use by transgender individuals is today's hot-button civil rights issue. The often strong and disparate opinions about the subject creates a conundrum for employers: How do we make everyone comfortable while ensuring a safe and inclusive environment? And how do we do that without violating the law? More ›
It is not uncommon for companies to contract their daily business operations to third-party companies. In Motta et al v. Global Contact Services, Inc., the court addressed whether such relationships relieve the outsourcing company of any duties to address discrimination or harassment in the workplace. More ›
Effectively responding to employee discrimination complaints by current employees without running afoul of federal and state anti-retaliation laws presents a slippery slope for all employers. In fact, retaliation complaints make up nearly half of all discrimination charges filed with the EEOC today. Thus, it is critical that employers, their managers, supervisors, and employees understand who the laws protect and what constitutes retaliation.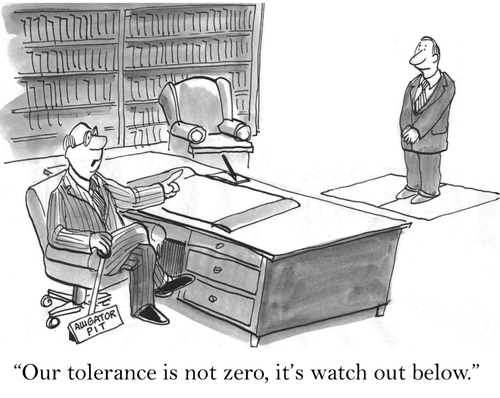 On Thursday the EEOC sought to clarify these standards by issuing updated proposed enforcement guidance. The proposal is the first update to the EEOC's Compliance Manual since 1998. The proposal was prompted by significant developments in the law and the marked increase of retaliation claims over the last eighteen years.
The 76-page proposal covers the definition of retaliation, the elements of a retaliation claim, interference claims under the Americans with Disabilities Act, remedies, and best practices. Rather than summarize all of the above, I will highlight the most significant developments below. More ›
Search

Subscribe via Email


Subscribe to this blog's feed

Follow us on Twitter
Topics
Discrimination and Harassment
Blog Editors