Religious Exemptions to COVID-19 Vaccine Mandates Do Not Include Political, Social, Economic Beliefs, According to EEOC
On November 5, 2021, the Occupational Safety and Health Administration (OSHA) issued an Emergency Temporary Standard (ETS). It required employers of 100 or more employees to institute mandates requiring employees to be fully vaccinated against COVID-19—or require weekly testing of its employees. That same day, the Centers for Medicare & Medicaid Services (CMS) similarly issued an Interim Final Rule (IFR) requiring the workforces of Medicare- and Medicaid-certified providers and suppliers to be fully vaccinated against COVID-19 in order for Medicare and Medicaid facilities to continue participation in those programs. Many employers have also instituted COVID-19 vaccination mandates for their employees separate from OSHA's ETS and CMS's IFR.
Regardless of whether an employer is following OSHA's ETS, the CMS's IFR, or has instituted its own vaccine mandate, employers must be aware that Title VII of the Civil Rights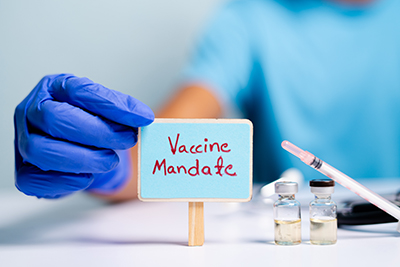 Act of 1964 (Title VII)—which protects employees based on their race, color, religion, sex, and national origin—requires employers to provide reasonable accommodations to employees for their sincerely held religious beliefs. Therefore, Title VII may require employers to provide religious exemptions to a vaccine mandate where it conflicts with the sincerely held religious beliefs of employees.
The Equal Employment Opportunity Commission (EEOC), which enforces Title VII, has released technical assistance questions and answers to keep employers informed of how various employment discrimination laws apply to COVID-19. The EEOC is regularly updating its COVID-19 technical assistance.
One important update to the technical assistance occurred on October 26, 2021. In this update, the EEOC clarified that social, political, or economic views, as well as mere personal preferences, are not religious beliefs subject to a religious exemption from COVID-19 vaccine mandates. This clarification is important because employer vaccine mandates have become highly contentious, and employees may claim that their personal, political, or other non-religious beliefs exempt them from COVID-19 vaccine mandates. According to the EEOC's guidance on religious accommodations, a religious belief is "a belief that occupies a place in the life of its possessor parallel to that filled by . . . God." It can include "non-theistic moral or ethical beliefs as to what is right and wrong which are sincerely held with the strength of traditional religious views." Religious beliefs typically concern "ultimate ideas" about "life, purpose, and death." Whether a belief is religious is determined on a case-by-case basis. However, the EEOC is clear that beliefs that are merely political, social, economic, or personal do not qualify as protected religious beliefs.
If an employee has a purely political, social, economic, or personal objection to the COVID-19 vaccine, and the objection has no relation to religion, then, according to the EEOC, the employee does not qualify for a religious exemption to COVID-19 vaccine mandates under Title VII.
Employers should consult with their labor and employment attorney when assessing an employee's request for an exemption to a COVID-19 vaccine mandate.
Additional Resources: