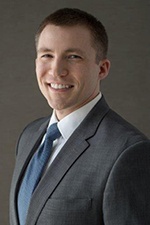 Alexander M. Baggio
Partner
ABaggio@hinshawlaw.com
612-334-2631
Alexander Baggio advises businesses in a wide-range of commercial litigation, labor and employment disputes, and both ERISA and non-ERISA life …
Showing 6 posts by Alexander M. Baggio.
On August 30, 2023, the U.S. Department of Labor (DOL) announced a Notice of Proposed Rulemaking to update and revise the salary requirements under the Fair Labor Standards Act (FLSA) for exemptions from minimum wage and overtime pay requirements for employees subject to the executive, administrative, or professional exemptions, otherwise known as the "white collar" exemptions. This change would also affect computer employees classified as exempt and who receive a salary. More ›
While helpful to individuals, the new guidance issued recently by the Center for Disease Control raises more unanswered questions for employers preparing or implementing return-to-work strategies. In an advisory published on Hinshaw's website, we review these questions, and provide analysis.
On June 10, 2020, in Minnesota Chamber of Commerce v. City of Minneapolis, the Minnesota Supreme Court upheld the City of Minneapolis' Earned Sick and Safe Time (ESST) Ordinance. The ordinance requires employers to provide sick and safe time to employees who work within the city, and applies to all employees who work in Minneapolis, regardless of whether or not the employer is based in Minneapolis. Employers operating in Minneapolis—or other Minnesota cities with similar ordinances such as Duluth and St. Paul—should review their local ordinances, along with state and federal laws, to ensure compliance. More ›
The National Labor Relations Board (NLRB) recently provided guidance in Cordúa Restaurants, Inc., 368 NLRB No. 43, for employers seeking to require employees to sign class action and collective action waivers in arbitration agreements when facing litigation. By way of background, the U.S. Supreme Court previously held in Epic Systems Corp. v. Lewis, 138 S.Ct. 1612 (2018), that agreements containing class action and collective action waivers, and provisions stipulating that employment disputes be resolved by individualized arbitration, do not violate the National Labor Relations Act. As a result, the Court held that these agreements must be enforced as written to follow the Federal Arbitration Act (the "Act"). In Cordúa Restaurants, the NLRB was faced with two issues of first impression in the post-Epic Systems era: (1) whether the Act prohibits employers from circulating such agreements in response to employees opting in to a collective action; and (2) whether the Act prohibits employers from threatening to discharge an employee who refuses to sign a mandatory arbitration agreement. The NLRB held that both actions were consistent with Epic Systems and were not forbidden under the Act. The Cordúa Restaurants decision provides significant opportunity for employers to revise arbitration agreements to preclude participation in these multi-party litigations and require that employees sign these agreements. More ›
The Wage and Hour Division of the U.S. Department of Labor (DOL) has announced proposed changes to the regular rate regulations of the Fair Labor Standards Act (FLSA). According to the DOL, the proposed changes are focused on updating and clarifying the regular rate regulations, and intended to encourage employers to provide additional benefits to workers without inviting litigation. More ›
The Minnesota Court of Appeals affirmed a lower court ruling that a Minneapolis ordinance raising the minimum wage did not conflict with—and was not impliedly preempted by—state statute, clearing the path for a rise in minimum wages in the municipality. (Graco, Inc., et al. v. City of Minneapolis, Case No. A18-0593). While review may still be sought at the Minnesota Supreme Court, employers in Minneapolis should continue complying with the ordinance's minimum wage requirements. More ›