EEOC Announces EEO-1 Survey Deadline Extension Due to Government Shutdown
The recent federal government shutdown left the Equal Employment Opportunity Commission (EEOC) mostly shuttered. As a result, the commission has announced an extension of the 2018 EEO-1 reporting period deadline to May 31, 2019. The online reporting period will begin in early March, although the exact opening date has yet to be announced. Employers can visit the EEOC website for updates.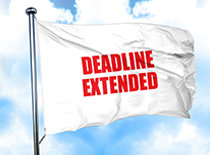 The EEO-1 report is an annual survey that requires certain employers to report employment data by sex, race, and job category. When completing the survey, employers must pull their data from one pay period in October, November, or December of the current survey year.
Private employers with 100 or more employees and federal government contractors—or first-tier subcontractors with 50 or more employees and a federal contract, subcontract, or purchase order totalling $50,000 or more—must file the report. Smaller employers covered by Title VII do not need to file a report, but are subject to federal recordkeeping requirements.
View a sample EEO-1 form (PDF)
Search

Subscribe via Email


Subscribe to this blog's feed

Follow us on Twitter
Blog Editors