SCOTUS Will Decide Whether Title VII Protects LGBTQ Workers
After considerable anticipation, the U.S. Supreme Court today agreed to hear three cases involving questions of whether Title VII's prohibition against sex discrimination encompasses discrimination on the basis of sexual orientation and gender identity.
The first two cases, Altitude Express v. Zarda and Bostock v. Clayton County, Georgia, were brought by employees who alleged their employers terminated their employment after learning they were gay. The Court's decision will resolve a widening circuit split over whether Title VII prohibits discrimination on the basis of sexual orientation. In Altitude Express, the Second Circuit joined the Seventh Circuit in holding it does cover sexual orientation, overturning longstanding precedent in the process. The court reasoned "the most natural reading of the statute's prohibition on discrimination 'because of . . . sex' is that it extends to sexual orientation discrimination because sex is necessarily a factor in sexual orientation." In Bostock, the Eleventh Circuit held it does not, explaining it remained bound by a 1979 case holding "[d]ischarge for homosexuality is not prohibited by Title VII."
In the third case, R.G. & G.R. Harris Funeral Homes Inc. v. EEOC, the EEOC challenged the firing of a transgender woman terminated after she told her employer she intended to undergo sex reassignment surgery and would begin wearing women's clothing to work.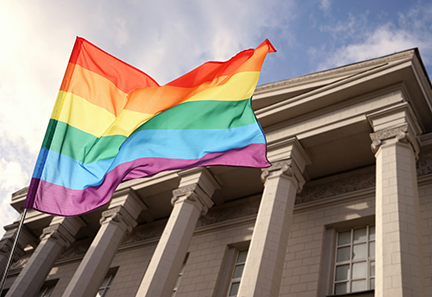 The Sixth Circuit revived her claims, holding Title VII prohibited discrimination on the basis of gender identity because "it is analytically impossible to fire an employee based on that employee's status as a transgender person without being motivated, at least in part, by the employee's sex." No other circuit has addressed this issue.
A decision in favor of the employees would also expand the rights of workers in the 28 jurisdictions where statewide discrimination laws do not explicitly protect LGBTQ workers, such as Arizona, Florida, and Indiana. The decision will have less impact in the 20 states with laws extending protected status to LGBTQ workers, e.g., Illinois, Massachusetts, Minnesota, New York, and New Jersey, as well as Wisconsin, the only state naming sexual orientation, but not gender identity, as a protected class. Even in these states, eliminating the need to prove that gender-nonconformance factored into the employer's decision should simplify the employee's burden of proof, resulting in more employees pursuing their claims in federal court.
The impact of the Court's forthcoming decision will be felt most prominently by LGBTQ workers who otherwise conform with gender norms or stereotypes associate with their birth gender. That's because the U.S. Supreme Court held long ago in Price Waterhouse v. Hopkins that Title VII's prohibition against sex discrimination prohibits discrimination based on an employee's failure to conform with gender norms or stereotypes. The Court is not expected to revisit that decision.
Search

Subscribe via Email


Subscribe to this blog's feed

Follow us on Twitter
Blog Editors